My X'mas Wish 2010 – The Wishes Collection game organized by Discuss.com.hk, Uwants.com and co-organize with Jetso.com.hk, commenced on today. The wishes collection period is from 2010 December 7th to 15th, while the wishes voting period is from December 16th to 21st.
Thanks to the success of My X'mas Wish 2009, Discuss.com.hk and Uwants.com organize the My X'mas Wish 2010 again. Sponsors including Dell, Career Times and Promise, together with the co-organizing website Jetso.com.hk, there are several grand prizes for this year's campaign, including Dell computer, Nokia mobile phone, iPhone smartphone, cash coupons, Christmas Gift pack, etc.
There are 4 categories of wishes in this year, including "The warmest wish", "The funniest wish", "The most romantic wish" and "The most encouraging wish". After participants submit wishes, our judging panel will select wishes during the collection period. Voting period will start immediately after closing of collection, and the shortlisted wishes will be vote by the public. Moreover, this year's voting will be held in Jetso Facebook Fan page, so that members could keep themselves update about the voting trend.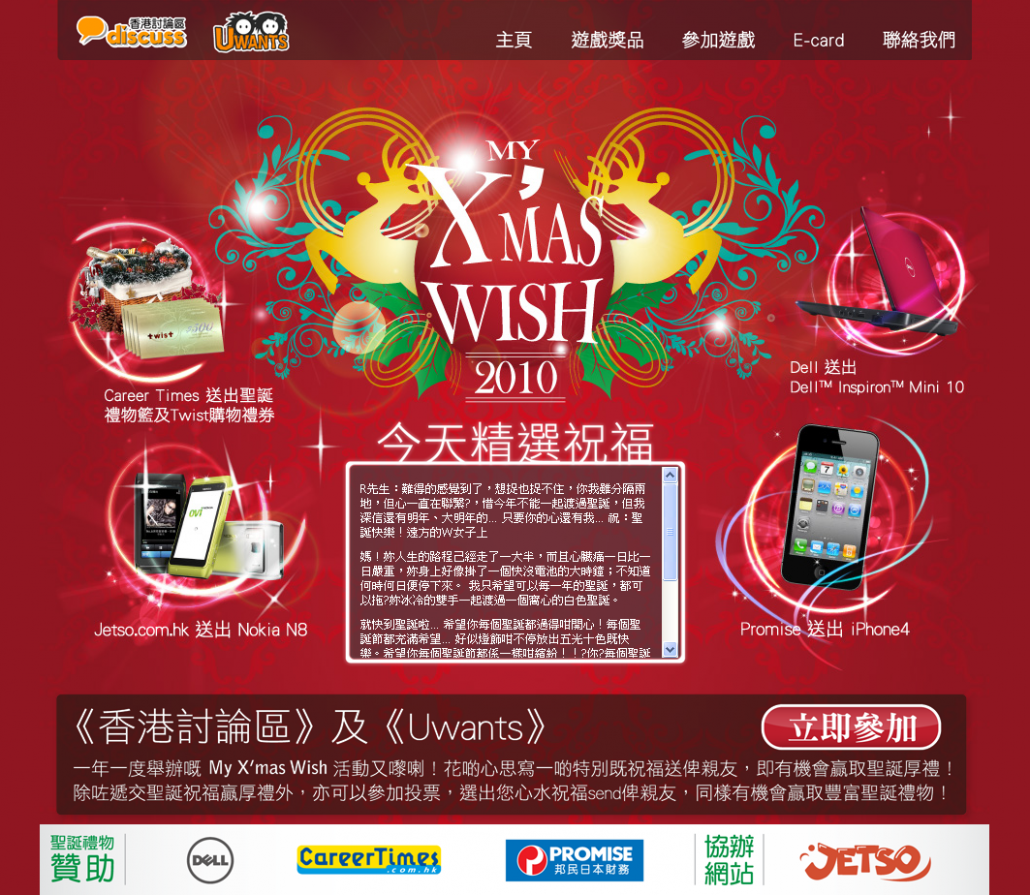 https://www.networld.hk/wp-content/uploads/2010/07/MiniSite_HomePage.jpg
924
1063
2010-12-07 12:57:55
2015-05-06 13:02:21
My X'mas Wish 2010 – The Wishes Collection game, win prizes by compose wishes or vote for wishes