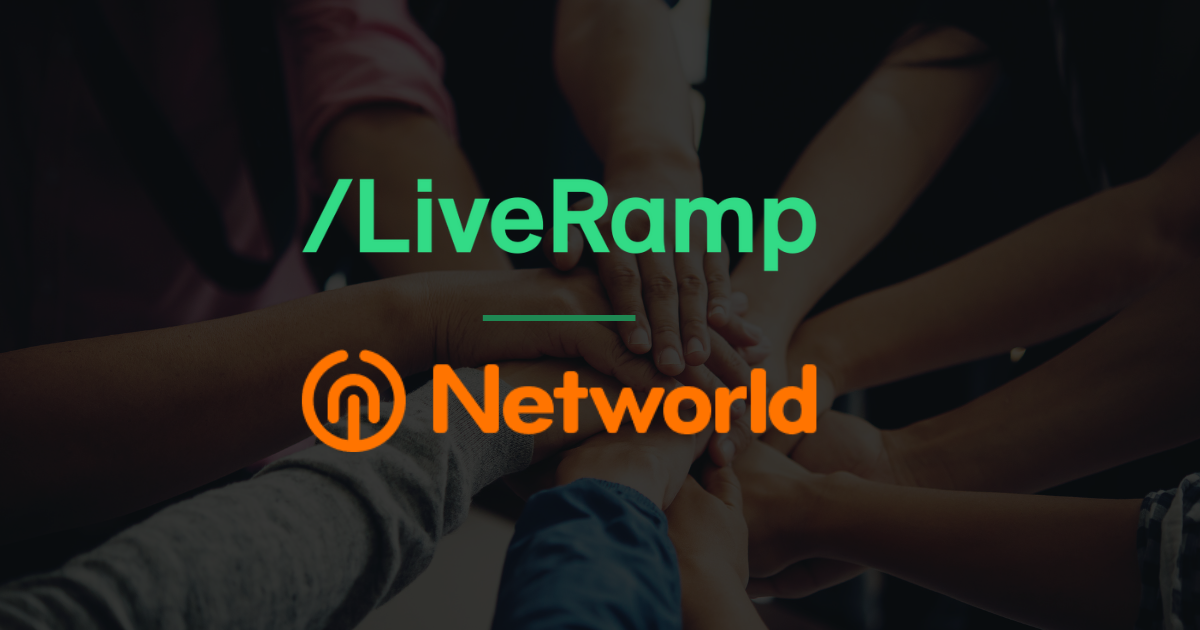 SAN FRANCISCO – Networld today announced a partnership with leading data collaboration platform, LiveRamp, to integrate its Authenticated Traffic Solution (ATS) into Networld's digital media properties. ATS allows Networld to enhance addressability across its digital media portfolio, including Discuss, one of the most well-known discussion forums in Hong Kong, as well as leading local price comparison portal Price.
ATS allows Networld to connect first-party user data with LiveRamp's pseudonymous identifier, RampID, to enable advertising on authenticated inventory in a privacy-forward manner. ATS is built on trusted consumer relationships and enables addressable inventory without third-party identifiers, increasing the value of Networld's media inventory across all channels. Marketers using LiveRamp's data collaboration platform can reach their customers across Networld's properties, and seamlessly activate, personalize, and measure on RampID.
"In order to plan beyond signal loss facing the ecosystem, marketers are showing their preference for authenticated audiences and the ability to connect with their audiences while leveraging their valuable first-party data," said Patrick Ng, Head of Data. "ATS enables us to help marketers meet these important needs, and helps us to build infrastructure that will last beyond the end of the third-party cookie, device signals, and more."
Networld joins more than 14,000 domains which have integrated with ATS globally, along with more than 80 DSPs and 80 SSPs. More than 450 of the world's leading advertisers activate campaigns through LiveRamp's Data Collaboration Platform, and the partnership with Networld will further accelerate advertiser demand for authenticated inventory.
"Marketers everywhere are showing that they want to leverage authenticated inventory for better results, and Networld is going live on ATS to better meet this demand," said Travis Clinger, SVP, Activations and Addressability, LiveRamp. "By making it easier for marketers to activate their own first-party data, as well as reach and engage with their audiences accurately, Networld is making their inventory more valuable to marketers, especially those interested in reaching real people with their campaigns."
Additionally, LiveRamp will help Networld scale Google Publisher Advertiser Identity Reconciliation (PAIR), which will unlock another way for Networld to securely and privately reconcile their first-party data with marketer first-party audiences. Using LiveRamp and PAIR, marketers will be able to securely transact on Display & Video 360 without the need for third-party signals.
For more information about ATS, please visit the website.
About LiveRamp
LiveRamp is the data collaboration platform of choice for the world's most innovative companies. A groundbreaking leader in consumer privacy, data ethics, and foundational identity, LiveRamp is setting the new standard for building a connected customer view with unmatched clarity and context while protecting precious brand and consumer trust. LiveRamp offers complete flexibility to collaborate wherever data lives to support the widest range of data collaboration use cases—within organizations, between brands, and across its premier global network of top-quality partners.
Hundreds of global innovators, from iconic consumer brands and tech giants to banks, retailers, and healthcare leaders turn to LiveRamp to build enduring brand and business value by deepening customer engagement and loyalty, activating new partnerships, and maximizing the value of their first-party data while staying on the forefront of rapidly evolving compliance and privacy requirements. LiveRamp is based in San Francisco, California with offices worldwide. Learn more at LiveRamp.com.
About Networld
Networld is dedicated to providing high quality service which helps people connect and share in more convenient ways. Discuss.com.hk and Uwants.com (an ACG portal) are distinguished discussion forums in Hong Kong, and Price.com.hk is the No.1 price comparison and e-commerce platform. In recent years, Networld has also focused on big data technology, providing effective data analysis and audience targeting data for advertisers.
https://www.networld.hk/wp-content/uploads/2023/08/liveramp-1200x630-1.png
630
1200
2023-08-14 12:00:16
2023-08-14 12:48:32
Networld Adopts LiveRamp's Authenticated Traffic Solution