Uwants.com.hk launched a latest Micro-blogging feature "Uwants Weibo" t.uwants.com.hk. "Uwants Weibo" is a feature launched together by "Uwants" and "Tencent Weibo". This new functionality provides members an innovative social networking experience which greatly increases the interaction between forum and micro-blogging.
The interface of "Uwants Weibo" is simple and clear, accompanied by its originated "One click to sign up Weibo account" function, it allows members to activate their "Uwants Weibo" in a convenient way.
Once member has linked up the two accounts, whenever they posted a new topic or reply on forum or in Weibo, the messages will be automatically synchronized to both "Uwants Weibo" and "Tencent Weibo". Moreover, the member's Weibo ID will be shown on the forum profile, which allows other members to Follow (subscribe).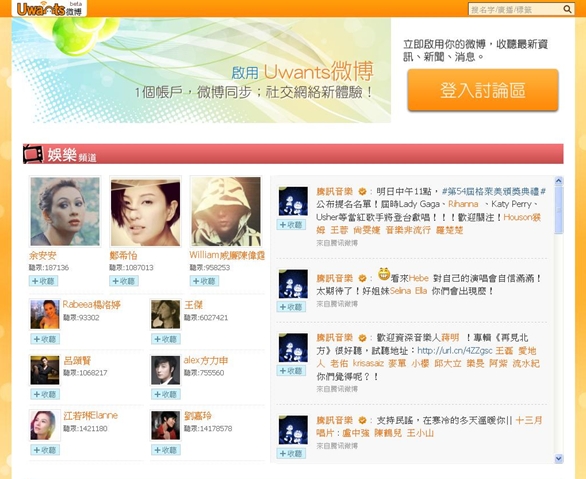 https://www.networld.hk/wp-content/uploads/2015/04/news_20110908_U001L.jpg
479
586
2011-09-08 16:30:48
2015-04-13 16:33:20
Uwants introduces a new Micro-blogging features "Uwants Weibo" (t.uwants.com.hk)